Top 13 Acrylic Toe Nail Designs You Need to Try
Acrylic toe nails have become increasingly popular in recent years, offering a long-lasting and durable solution for those looking for a polished look.
This form of nail art allows for endless possibilities of creativity on white acrylics, from classic French long acrylics with white tips to bold animal print short acrylic toe-nails.
Also, you can follow any nail trend that your friends are following so your nail look becomes stunning. You can go for any color and design and to look super cute you may follow abstract designs.
However, there are important considerations to keep in mind before getting fake toe nails, including proper application, potential allergies, and nail care.
Are Acrylic Toe-nails Safe To Wear?
Cute acrylic toe nails are generally considered safe, but there are some important factors to consider. Proper application by a trained and licensed technician is crucial to minimize the risk of infection or other foot problems.
Some people may be allergic to the chemicals used in the process, which can cause skin irritation or even an allergic reaction. Additionally, acrylics can weaken the natural nail bed, making the nails more susceptible to breakage or infection.
Proper care and maintenance are essential to prevent damage to natural nails. It is important to be aware of these factors before getting acrylic toe nails to ensure a safe and enjoyable experience.
How Long Do Acrylic Toe-nails Last?
The lifespan of acrylic toe-nails can vary depending on a variety of factors, including the quality of the materials used, the skill level of the nail technician, and the care taken by the wearer.
Generally, acrylic toe-nails can last anywhere from 2-4 weeks before they need to be filled or removed. However, it's important to note that acrylic toe-nails can cause damage to natural nails if they are not properly maintained or removed, so it's essential to follow the instructions of a trained professional to ensure the health of your nails.
How Much Are Acrylic Toe-nails?
Are you looking for long-lasting toenails that can outlast a traditional nail polish manicure? If so, you might be interested in acrylic toe-nails.
If you're curious about the cost of acrylic toe-nails, typically, a full set can range from $40 to $60. However, the price can vary depending on the salon and the type of package you choose.
Some salons offer higher-priced packages that include additional treatments, such as hydrating treatments, which can extend the lifespan of the acrylic toe-nails up to four weeks. These premium packages can range from $50 to $150 or more.
What are the Top 13 Acrylic Toe Nail Ideas?
Who says your toes can't be fashionable? Jazz up your foot game with these fabulously fun toe-nail designs!
1. Glittery Acrylic Toe Nails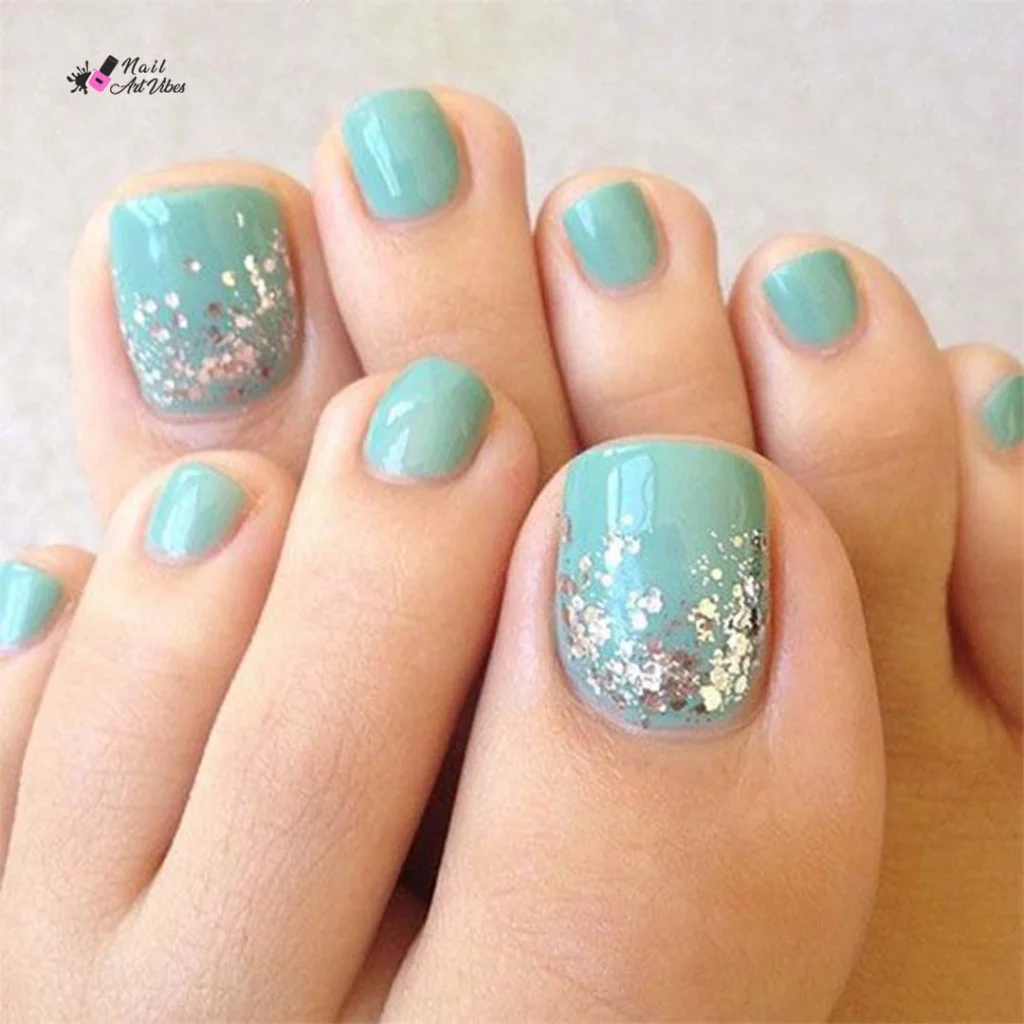 First up, we've got the Glittery Toe Nails. These babies are all about the bling! Shimmery, sparkly, and totally attention-grabbing, they're the perfect choice for anyone who wants to add some pizzazz to their feet.
And the best part? They're made with high-quality materials, so you can show off your stuff with confidence!
2. Bow Art Acrylic Nails For Toes
Next, let's talk about Bow Art Acrylic Toe-nails. These little cuties are all about the bows! Adorable, whimsical, and oh-so-girly, they're perfect for anyone who wants to add a touch of playful charm to their look.
And the bows can be customized in different colors, so you can mix and match to your heart's content. So go ahead, show off your girly side!
3. Floral Acrylics For Toes
If you're more of a nature lover, the Floral Acrylic nails are the perfect choice for you. These stunning designs feature intricate and beautiful floral patterns that will make your toes look like works of art.
Plus, they come in a variety of colors, so you can pick the one that best matches your mood. Whether you're heading to a picnic in the park or a fancy wedding, these floral designs are sure to turn heads.
4. Cheque Design Acrylic Toe Extensions
Last but not least, we've got the Cheque Design Acrylic Toe Nails. These trendy nails are all about the pattern, baby! The cheque design is a classic that never goes out of style, and these acrylic toe nails are the perfect way to show off your fashion sense.
Plus, with different colors and patterns available, you can mix and match to your heart's content. So why settle for boring toes when you can rock these chic and stylish cheque designs?
5. Seasonal Toe Nail Designs
Looking to switch up your toe game with the changing seasons? These seasonal acrylic toe nail art designs are perfect for adding a touch of flair to your look, no matter the time of year!
For spring, pastel shades and floral patterns are always popular choices. Soft pinks, blues, and greens, along with delicate flower designs, are perfect for capturing the freshness and new beginnings of the season.
In summer, it's all about bright and bold colors! Think vibrant oranges, pinks, and yellows that will make your toes pop. Add some fun designs like
Above is the design idea for the autumn season!
6. Summary Acrylic Toe-nails
Are you longing to add a touch of glamour to your toes? Look no further than our fabulous summary acrylic toe-nails!
These delightful extensions offer the perfect blend of style and durability, ensuring your toes stand out from the crowd. Whether you crave a trendy or classic design, our skilled nail artists will create a look that suits your personality and preferences.
From vibrant colors to subtle shades, the options are endless! Step confidently into any occasion and let your toes do the talking.
With our summary acrylic toe-nails, you'll feel like you're walking on air, showcasing your unique style with every step!
7. Abstract Designs for Acrylic Nails on Toes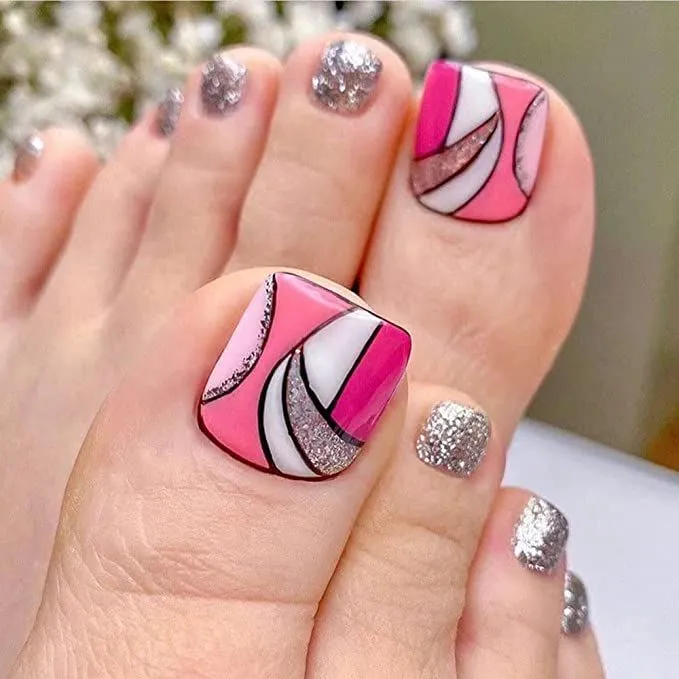 Let your toes become an art masterpiece with our captivating abstract for acrylic nails! Unleash your creative side as our talented technicians work their magic on your toes, crafting intricate and imaginative patterns that are sure to turn heads.
From bold geometric shapes to playful splashes of color, these abstract ideas offer an exciting way to express your individuality. Embrace the joy of being a walking art exhibit, attracting compliments and admiration wherever you go.
With our abstract acrylic nail designs for toes, you'll make a statement that is uniquely and wonderfully you.
8. Ocean-Inspired Toe-nails
Dive into a world of seaside enchantment with our ocean-inspired toe-nails! Transport yourself to the serene shores with a breathtaking palette of blues, greens, and sandy hues that mimic the beauty of the ocean.
Whether you fancy dainty seashell motifs, graceful waves, or adorable marine life accents, our nail artists will bring your coastal dreams to life. Embrace the tranquility of the sea as you showcase your toes adorned with these exquisite designs for 2023.
From beach vacations to everyday life, our ocean-inspired toe-nails will infuse a touch of maritime magic into your every step.
9. Simple French Tip Acrylic Nails for Toes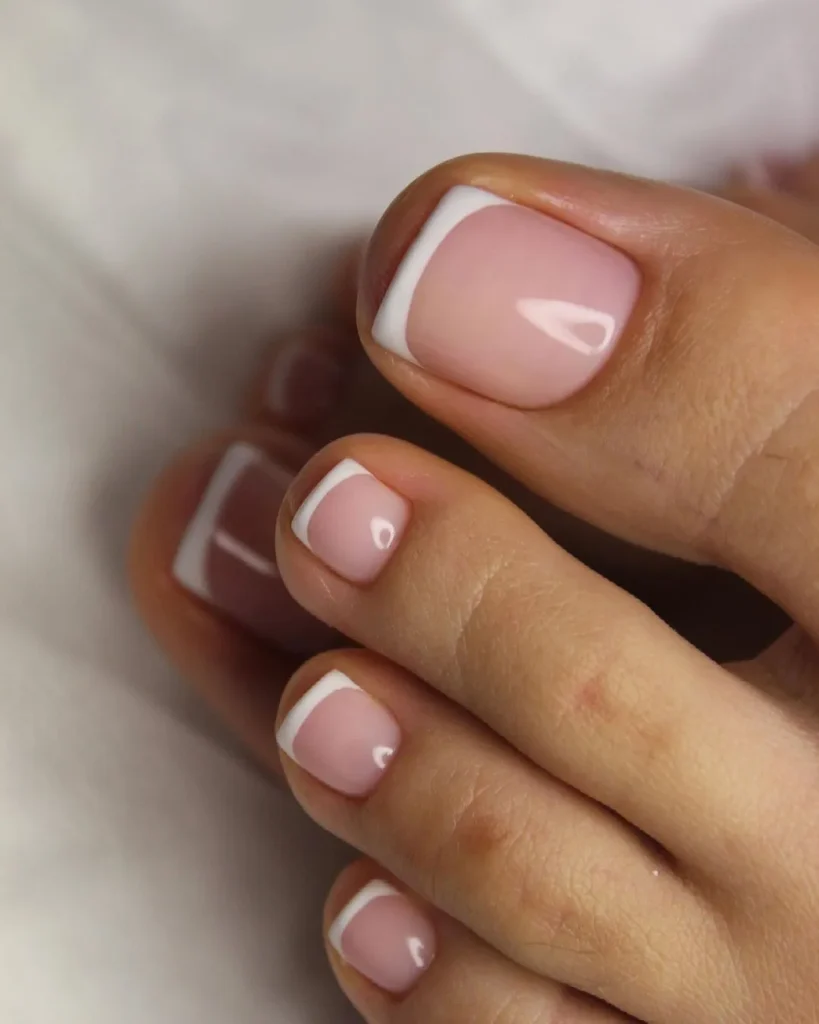 Elegance meets understated charm with our timeless and chic simple French tip acrylics for toes. Indulge in the classic beauty of clean white tips that effortlessly elongate your nails, making your toes appear elegant and polished.
Whether you're attending a formal event or just want to add a touch of sophistication to your everyday look, these French tip designs are the perfect choice. Feel confident and refined as you step out with your toes adorned in this minimalist yet striking style.
With our simple French tip acrylic nails, your toes will exude a sense of timeless grace wherever you go.
10. Enchanted Garden Toenails
Step into a whimsical world with our enchanting garden-themed acrylic toen-ails! Let your toes blossom with vibrant floral designs, delicate leaves, and adorable butterflies.
Embrace the beauty of nature as our skilled nail artists bring a touch of magic to your toes. Whether you prefer a bouquet of colorful flowers or a more subtle botanical pattern, our garden-inspired toenails will infuse your look with a sense of natural elegance.
Get ready to flaunt your toes like a fairy-tale garden, enchanting everyone around you with your delightful and captivating style.
11. Celestial Dreams Toenails
Reach for the stars and embrace the cosmos with our celestial dreams acrylic toe-nails! Dive into the mysteries of the universe as your toes become a celestial canvas adorned with shimmering stars, serene moons, and cosmic swirls.
Whether you wish to channel the beauty of a midnight sky or create a cosmic galaxy, our nail artists will bring the heavens to your toes with celestial precision. Unleash your inner stargazer and let your toes shine with an otherworldly charm.
These celestial toenails will leave you feeling like you're walking among the stars, radiating a celestial allure with every step.
12. Tropical Paradise Toenails
Escape to a tropical oasis with our vibrant and exotic tropical paradise acrylic toe-nails! Immerse your toes in a burst of tropical colors, featuring lush palm leaves, vibrant hibiscus flowers, and playful toucans.
Channel the laid-back vibes of a beach vacation as you flaunt these eye-catching designs. Whether you're headed to the beach or simply want to add a splash of vacation-inspired fun to your daily routine, our tropical toenails will transport you to sun-kissed shores.
Get ready to feel the warm breeze on your toes and show off your toes' tropical flair with confidence!
13. Vintage Glam Toenails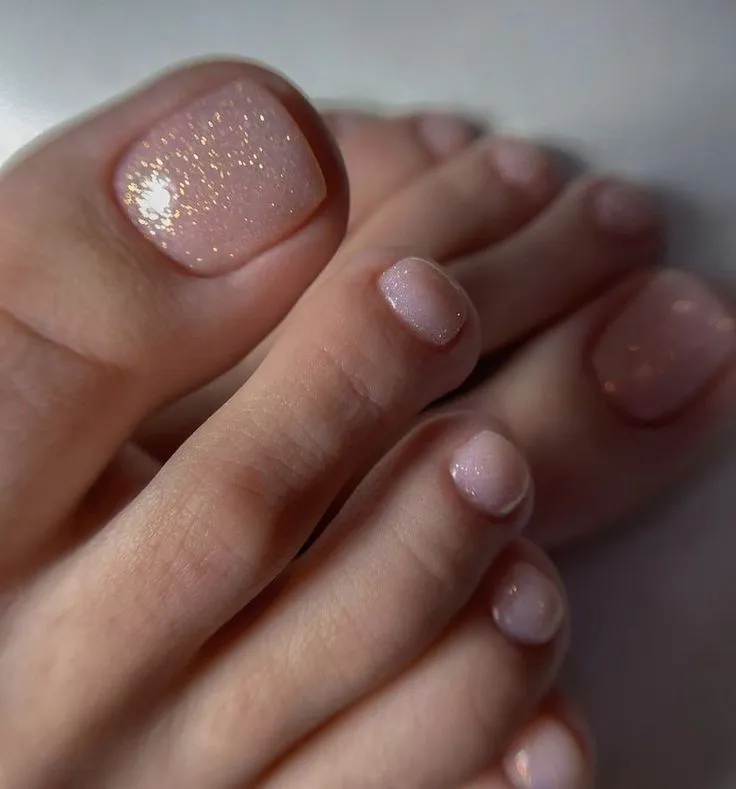 Step back in time with our enchanting vintage glam acrylic toe-nails! Embrace the elegance of bygone eras as your toes become a canvas for retro-inspired designs.
Whether you're a fan of the roaring '20s with art deco motifs, the glamour of the '50s with polka dots and bows, or the bohemian vibes of the '70s with groovy patterns, our nail artists will create a vintage look that suits your style.
These timeless designs will add a touch of sophistication to any outfit, making you feel like a classic Hollywood starlet with every step you take.
Let your toes exude old-world charm and captivate with a sense of vintage allure. Get ready to turn heads and transport yourself to a golden era with our vintage glam toenails!
So there you have it, folks! Whether you're a glitter-lover, a bow fanatic, a nature buff, or a fashionista, there's an acrylic nail idea for every season out there for you. So go ahead, treat yourself to a pedi, and show off those fabulous feet!
FAQs
Q: What are acrylic toe nails?
A: Acrylic toe-nails are a type of artificial nail that is applied to the toenails to add length and design.
Q: How long do acrylic toe-nails last?
A: Acrylic toe-nails can last up to two weeks, but this depends on how well they are applied and how well they are taken care of.
Q: Can I remove acrylic toe-nails at home?
A: Yes, you can remove trendy acrylic toe nails at home. It is important to follow the proper removal technique to avoid damaging your natural nails.
Q: How can I make my toe nails last longer?
A: To make your toe nail extensions last longer, avoid exposing them to water for extended periods of time and avoid using your toes to pick up or scratch. Apply a top coat every few days to help protect the design and keep it looking fresh.
Q: Are there any risks associated with acrylic toe-nails?
A: Improper application or removal of acrylic nails can lead to damage to your natural nails. It is important to follow proper techniques and take care of your natural nails to avoid any risks.
Conclusion
Overall, acrylic toenails can be a great option for those looking to add some style to their foot fashion.
By choosing a reputable technician, being aware of any potential allergies, and taking proper care of your nails, you can enjoy a safe and stylish experience. 
With a wide variety of designs and colors available, acrylic toenails provide an exciting opportunity for self-expression and creativity. Going for nails with French tips will give you extra good vibes.